Saturday, November 9, 2013
"
Writing that begins as therapy and ends in publication potentially sets the therapeutic needs of the writer—to come to clarity and get better, to have a protagonist who figures things out—against the needs of the audience, who may prefer the writer to keep fucking up; who may enjoy vicarious self-­destruction at least as much as vicarious redemption, if not more; who may have an investment in the very ideological clichés writers need to dispel for their own empowerment. What can be enjoyable for readers may be for the writer therapeutically useless at best, or destructive at worst; what is interesting and therapeutic to the writer can be dull to the reader. Certainly, a writer's and an audience's needs are not necessarily the same. Perhaps the problem with narrative therapy is in fact the audience, once the audience is no longer just oneself. In a way, readers discipline the writer: They encourage a simplified story, then punish the writer for that very simplicity. The traumatized writer, looking outward for healing, often finds further trauma… To continue as artists, not as convalescents, requires that we retire the trauma narratives we have come to know too well and tell other, less understood stories—the stories that are still difficult to tell.
"
Melissa Petro, The New Inquiry
Monday, March 4, 2013
Monday, February 25, 2013
Tuesday, January 15, 2013
Sunday, November 25, 2012
THERE IS NO WAR ON MEN, FOX NEWS
Maybe it's because the apocalypse is looming ever closer, but 2012 has been a year of a lot of war rhetoric, the vast majority of which sloppily and lazily fails to take into account the fact that women are in no position to triumph in a gender war.  Most writing like this also uses feminist gains to blame women for immemorial structural inequities in our society.  A particularly egregious example of this way of thinking has recently crept its way out of the terrifying hive mind of Fox News, aptly entitled "The war on men".  In this piece, author Suzanne Venker (the acclaimed mind behind a slew of insightful tomes, including "How To Choose a Husband," "The Flip Side of Feminism" and "7 Myths of Working Mothers: Why Children and (Most) Careers Just Don't Mix") has taken to the blogosphere to lament the various ways in which feminism has ruined society.
As with all wonderful pseudo-academic antifeminist polemics, this little article begins with some statistics: since 1997, the amount of women aged 18 - 34 who rate having a successful marriage among their top priorities has risen from the shockingly low 28% to an UNPRECEDENTED HIGH of 37%; for men, almost the exact opposite has occurred (dropping 6 points, from 35% to 29%).  Venker rightfully points out that "a share" of modern women want to get married and then hopes we will forget how small the share is, and how close the male and female percentages are to one another (they're literally 8 percentage points apart), because we are dumb enough to be reading the opinions section of Fox News.  From here, she extrapolates furiously to the claim that "modern women want to get married.  Trouble is, men don't."
Why, pray tell, is this happening?  Does it have *societal implications* that point out to why we are ruined forever?  Does it have something to do with women whining all the time about wanting to be treated like human beings because, if so, that got annoying like 40 years ago and we are tired of hearing about it?  The answer to these questions is, unfortunately, yes, as Ms. Venker so eloquently outlines.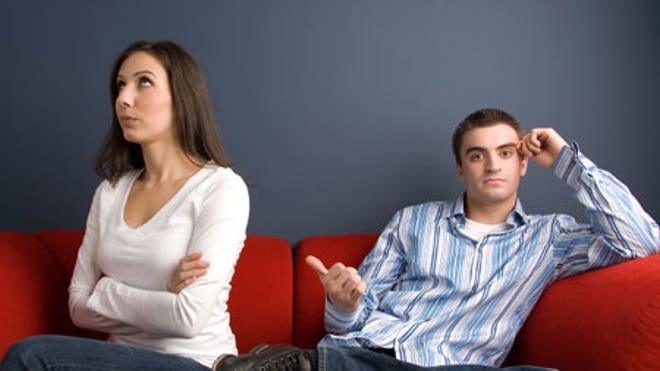 (They used this stock photo sincerely in the article)
Suzanne Venker notes that the lack of marriageable men has been a "hot subject in the media as of late."  Do reruns of Sex And The City count as media?  Because, if so, the woman has a point.  It's all the media will talk about. As any respectable embittered antifeminist harpy would, Venker blames the paucity of altar-ready gentlemen on the fact that "women aren't women any more."  And here I have no choice but to excerpt a long portion from Venker's op-ed, because her simplistic and misguided ramblings cannot be paraphrased, lest they lose their original poetry:
To say gender relations have changed dramatically is an understatement. Ever since the sexual revolution, there has been a profound overhaul in the way men and women interact. Men haven't changed much – they had no revolution that demanded it – but women have changed dramatically.

In a nutshell, women are angry. They're also defensive, though often unknowingly. That's because they've been raised to think of men as the enemy. Armed with this new attitude, women pushed men off their pedestal (women had their own pedestal, but feminists convinced them otherwise) and climbed up to take what they were taught to believe was rightfully theirs.

Now the men have nowhere to go.

It is precisely this dynamic – women good/men bad – that has destroyed the relationship between the sexes. Yet somehow, men are still to blame when love goes awry. Heck, men have been to blame since feminists first took to the streets in the 1970s.

But what if the dearth of good men, and ongoing battle of the sexes, is – hold on to your seats – women's fault?
There is so much patently wrong with this line of thinking: one, Venker is conflating the sexual revolution with all of feminism, which just clearly shows that she has no idea what she's talking about.  The sexual revolution changed the American conception of appropriate sexual behavior for men and women alike; to claim that it had no impact on male sexual behavior or norms is to completely ignore history and theory.  The "women good/men bad" line of thinking she mentions did exist, to a way less simplified extent, but only in radical feminism, which vehemently opposed itself to the pro-sex feminism to which she seems to be referring.  Any radical feminist who subscribes in the "women good/men bad" line of thinking would be the last person in existence to "blame [men] when love goes awry" because she would never have relations with a man in the first place and she would most likely believe that romance is a patriarchal construct.  It's precisely this kind of obstinate ignorance and blindness to the true history of the feminist movement that allows the embarrassingly uninformed to consistently malign feminism in general.
Furthermore, as is depressingly common in writing about gender, Venker completely disregards the way in which male privilege structures gender relations as we understand them today.  It's true that [straight, white] women have changed more than [straight, white] men and that [straight, white] men have not needed a revolution to the same extent.  However, it's obvious to anyone who gives it an instant of thought that this is because society is structured around [straight, white] masculinity as an ideal and a hermeneutic focal point.  We live in a world that is male-centric and male-oriented.  Obviously, as Venker alleges, the rise of women has less "threatened men" than "pissed them off."  But this is not because the feminist struggle is doomed to fail: it's because the opinions and actions of men are valued more in our society at this point of time.  Similarly, it's obvious that women are striving to reach a "masculine pedestal," not because feminists impertinently fail to take into account the necessity of gender roles for creating balance, but rather because the value of masculinity is constantly affirmed and reinforced in our society, whereas feminine traits are negatively contrasted against it as "weaker," "less capable," "less logical/rational," etc.  To succeed in our allegedly post-feminist society is to internalize traditionally masculine values and to pursue traditionally masculine paths.  This is not because, as Venker would argue, women are clambering up the hallowed Pedestal of Men to gain whatever power they can greedily gobble — it has to do with the gender imbalance upon which our society was founded, which persists now, and which influences people like Venker to lament that things aren't the way they used to be (when women weren't allowed to leave the domestic sphere and men could sexually harass their secretaries all day) and that really sucks a lot :(
Venker argues that "men want to love women, not compete with them. They want to provide for and protect their families – it's in their DNA. But modern women won't let them."  This condescending, paternalistic language should speak for itself — but, in case it doesn't, what Venker is arguing for is a world in which women are kept helpless (to some extent) so that men can feed them and protect them from outside dangers.  Venker's conception of "love" involves an unequal relationship in which masculine superiority is inscribed into the rituals of loving, living together, and showing affection.  Competition implies equality; love under patriarchy precludes it.  What men really need, Venker is arguing, is for women "to surrender to their nature," which means surrendering to men. Although she also says that it's necessary for men to "surrender to [their nature]" as well, she argues through the course of her entire piece that "male nature" is constant (one particularly hideous example: "it's the women who lose. Not only are they saddled with the consequences of sex, by dismissing male nature they're forever seeking a balanced life. The fact is, women need men's linear career goals – they need men to pick up the slack at the office – in order to live the balanced life they seek") and to "dismiss" it is folly, making it clear that she doesn't truly believe any surrendering must be done on men's part.  The whole argument comes from an embarrassingly antiquated view of gender: that of the active masculine vs. the passive feminine, which has gotten unruly in the past few decades because it's harnessed some of that powerful masculinity after seeing how truly awesome it is to be a dude.  Because the "true masculine" is aggressive and goal-oriented, it follows, any aggressive and goal-oriented woman is automatically not behaving in a feminine way and the only way to return to the "natural order" of things is to do as all women do (i.e., surrender and be passive).  At this point in her argument, Venker's rhetoric makes clear the exact point she'd been trying to conceal and sanitize throughout the entire piece: that women belong in a submissive position because their failure to comply with patriarchal norms is upsetting the balance of traditional gender roles and forcing us to address the shortcomings of our glorified construction of masculinity.

As with all gender-roles alarmists, Venker bemoans the way in which "articles and books (and television programs, for that matter) put women front and center, while men and children sit in the back seat."  This is insultingly false.  White men are completely overrepresented in the media, in the news, and in scholarly circles.  The fact that the limited representation that women have managed to gain in recent history is a cause for such unbridled horror only serves how far we have to go, although its heartening to realize that the illusion of male privilege as "natural" is so fragile that even small disruptions can toll doom to some who are invested in the maintenance of patriarchy.

Thursday, November 15, 2012
There is no winner in the "war on women"
In the week following the election, I've been somewhat put off by the rhetoric extolling women's gains in terms of representation and the growing support of pro-women and pro-LGBTQ legislation.  While I don't want to belittle the historic gains made by women in the race, I think it's premature and naively optimistic to claim that the tide has turned and that women are now the winners of (or in the process of winning) the "war on women," something that was implied on both Slate's XX Factor – twice – and on Jezebel.  It's very necessary to laud women for making historic gains – the amount of women in the Senate has doubled in the past 15 years; the first openly gay Senator was elected, as was the first Asian-American Senator; New Hampshire now has an all-female delegation etc. – but we have to keep those gains in perspective.  There are now 20 female senators, which is, obviously, only 20% of the Senate.  I could go on and list statistics about how women are still woefully underrepresented in politics and the media, but it's been done (see this article at the NY Times for more on this) and I'm more interested in examining the implications of how modern gender relations are conceptualized.
First and foremost, there will be no "winner" in the war on women as long as we live in a society in which it is in any way logical or comprehendible to us that a war between the sexes could exist.  As long as it makes sense to us on any level – even as something with which we vehemently disagree – that there should be antagonistic tension between all men and all women based on biological sex and biological sex alone, then the war has already been lost. In terms of intersectionality, of course, this language is deeply insufficient: what we see as a "war on women" is really a war on affluent, straight, cis-gendered, understood-as-white women who are only in a position to have their rights taken away because they possess them in the first place.  But even were I to overlook the "war on women's" failure to take into account the myriad and conflicting experiences of womanhood, I would still find the whole pretense fundamentally flawed.
To isolate the most recent and most vitriolic proclamations of ignorance of, disdain for, and fear of the female experience and to claim that they are 1) somehow new and 2) something that can easily be defeated is a complete and total fallacy.  The reason that men in positions of political power are able to hold misogynistic beliefs and to justify them not only to themselves but to a large amount of other people (for instance, Roger Rivard, the Wisconsin state representative of "some girls rape easy" infamy, lost by a tiny margin – not an overwhelming defeat in any stretch of the imagination; Steve King, who claimed that he'd never heard of any woman getting pregnant from rape or incest, actually WON his seat, etc.) is because we live in a rape culture.  When the liberal press was shocked by Paul Ryan referring to rape as another "method of conception," what they were really horrified by was the clumsy wording expounding a commonly held belief.  Any person who believes that there should be no rape exception in abortion law clearly sees rape as just that – just another method of conception, something that happens to women occasionally (mostly slutty or poor women, though) but can't be helped because that's the way the world works.
What we are living in now – what we have always been living in – is a society in which women are systemically and systematically denied autonomy over their own bodies.  This is evident in dominant sexual attitudes, in which the female body is necessarily coded as a consenting body in the absence of a blatant "no," which not all women are authorized to give anyways (as described in this excellent essay); in which people of all genders learn to internalize and replicate sexual power structures of dominance and submission as an integral part of the construction of eroticism; in which it is still possible to silence and shame any woman who speaks her mind by the use of a crude epithet.  Take, for example, Rush Limbaugh calling Sandra Fluke a "prostitute" and a "slut" after she testified about the necessity of birth control as a preventative measure against ovarian cysts, and then returning to the national stage a few months later to demean her intelligence and capabilities as she was scheduled to speak at the DNC through crude sexual remarks.  Or, more recently, how right wing pundits have accused single, sex-crazed women of voting for Obama because they're too shallow to care about anything but sex. This is also evident in political discourse, be it through the "Let Her Die" bill, which would allow hospitals to deny women abortions even at the expense of their lives, or the "Women as Livestock" bill, which would prohibit women carrying stillborn fetuses from getting abortions through language that overtly compares them to farm animals. 
These hideous opinions and world views did not emerge suddenly from a paradisaical post-feminist society that sprung up some time after Roe v. Wade (maybe after the Equal Rights Amendment failed to pass?).  While I understand that there's been a recent upsurge in outlandishly sexist political action and rhetoric, as well as the media coverage of it, I do take issue with framing codified sexism as a new trend, as if it might one day cease to be the norm.  We have always lived in a world in which men are granted constant (ideological and actual) access to female bodies, though we are sometimes permitted to refuse to give consent as long as we are close enough to those in power.  In the past, patriarchal discourse about female sexuality maintained male power by depicting any woman's sexual expression as filthy, dark, and shameful.  Now that it's no longer completely taboo, the more liberal side of patriarchy objectifies and commodifies female bodies - and gives women the illusion of consent by allowing them to take pleasure and initiative in their own objectification as long as the end product conforms to a male-centric vision of what's desirable.  A conservative patriarchal view, on the other hand, trivializes women's attempts to seize corporeal agency by maintaining that a woman who wants to have say over what happens to her reproductive organs is sex-crazed and frivolous, as though bodily autonomy is not an important political goal.  Thus, as long as reproductive rights – WHICH AFFECT EVERY PERSON WHO HAS SEX – are painted as a "woman's issue" and crotchety misogynists continue to malign them on that basis, and as long as "women's issues" are seen as somehow lesser than human issues, then we cannot even begin to imagine what a victory in the war on women would look like.
Wednesday, November 7, 2012
"
In the U.S., where ninety-six percent of the reported perpetrators of rape are white, eighty percent of the men in prison for rape are black.
"
Joseph Weinberg & Michael Biernbaum, Conversations of Consent: Sexual Intimacy without Sexual Assault (via cocknbull)

(Source: creatorbreakdown)
Tuesday, November 6, 2012
No Doubt's "Looking Hot" video and cultural appropriation
Two days ago, No Doubt pulled their offensive "Looking Hot" video and issued a apology, which has been posted possibly everywhere on the internet, but which I want to quote here as well so that I can outline everything about it that I found lacking:
As a multi-racial band our foundation is built upon both diversity and consideration for other cultures. Our intention with our new video was never to offend, hurt or trivialize Native American people, their culture or their history.   Although we consulted with Native American friends and Native American studies experts at the University of California, we realize now that we have offended people.  This is of great concern to us and we are removing the video immediately…  We sincerely apologize to the Native American community and anyone else offended by this video.  Being hurtful to anyone is simply not who we are.
First and foremost, when has No Doubt ever showed sensitivity to other cultures?  Gwen Stefani has indulged in demeaning cultural appropriation throughout her entire career, from her insensitive and inappropriate decision to wear a bindi as a fashion accessory, to her fetishized crew of Japanese backup dancers "The Harajuku Girls," about whom she sang in "Rich Girl," "I'd dress them wicked/I'd give them names," thus denying four Japanese women both agency and humanity with one inane lyric.  Apparently the best way to showcase your admiration for a different culture's fashion trends is to reinforce harmful stereotypes about the passivity of its women.  I mean, every time I want to show my appreciation of another culture, what I like to do is select people who can claim that heritage and have them follow me around silently, garbed in my own bizarre and misinformed conception of what their culture means!  I also like to give them new, infantilized American names that are difficult to pronounce in their native language, because nothing says "I appreciate you" like commoditizing a human and naming them after your own clothing line!
Also, the whole refrain of "we're multi-racial" and "we asked our Native American friends if it was ok" is a classic example of tokenism and white privilege.  To think that you have the right to (mis)represent all Indigenous people based on your limited interactions with members of that group is deeply flawed – especially because the representation is not of any individual, but rather of a generalized stereotype that has existed since before our country's inception.  The repeated use of the world "hurtful" only serves to augment this false sense of individual psychological damage, implying that the harm done was on an individual, emotional level instead of a systemic, cultural one.  It is not offensive to see a Native American woman bound in a sexualized manner because it might hurt some poor Indigenous woman's feelings.  It's offensive because it's a continuation of an incredibly negative, widespread ideology that was used to justify the dispossession of the Native people's land and the cultural dominance of colonial settlers.  It trivializes the dire conditions of Native American women, who are twice as likely to be raped as non-Native women and far less likely to receive help and who are targeted for violent and sexual crimes because of their ethnicity.  In the words of aboriginal scholar Emma Laroque:
the portrayal of the squaw is one of the most degraded, most despised and most dehumanized anywhere in the world.  The 'squaw' is the female counterpart to the Indian male 'savage' and as such she has no human face; she is lustful, immoral, unfeeling, and dirty.  Such grotesque dehumanization has rendered all Native women and girls vulnerable to gross physical, psychological, and sexual violence… I believe that there is a direct relationship between these horrible racist/sexist stereotypes and violence against Native women and girls.
(For more on this, I suggest reading this excellent post on spunkmate).  Furthermore, to compare the struggles of other people of color to Native Americans is to take a totalizing, uninformed, and clearly unengaged view of how oppression operates in America, especially since the issues faced by Indigenous people are often minimized or sanitized.
All this is fairly obvious, I feel, but what angered me the most was reading responses to the apology.  Several news sources put scare quotes around 'hurtful' or highlighted that the offense was merely a "claim," refusing to even agree with the band in their deficient categorization of the offense inherent in their video.  I understand the concept of being unbiased, but it is precisely through maintaining that critical responses to white privilege are "hypersensitive" that we conceal the way in which it operates and create a situation in which the marginalization of other cultures is perceived as common sense.  Below is a comment on news article that I think best exemplifies all that's wrong with this frame of reference:
No artist should apologize for their work. If a small group of people… get offended that's their problem… This is a fashion, sexualized version of cowboys & indians and shouldn't be taken very seriously to begin with. I am pretty aware that Native-Americans these days don't dress like that and if you do then you are a moron. It's rock and roll fantasy and nothing else.
To act as though we live in a post-racial, postmodern society in which "art" is exempt from the structures of racial and gendered dominance through which everyone apprehends reality is beyond naïve.  There is a reason that "cowboys and sexy Indians" is a cultural trope: because white Americans have invented and revisited it constantly as a means of justifying and reinforcing the destruction of Native American lives and culture.  Especially since there are few – if any – accurate and positive portrayals of Indigenous people in pop culture, to say that we all know better and that the image of a sexualized, bound Native American woman is a harmless fantasy fails to take into the account the way in which media like the "Looking Hot" video structure two separate fantasies: that of the pervasive, still present fantasy of the sexualized squaw (statistics show that 70% of the sexual violence committed against Native women is committed by non-Natives) as well as that of the world in which cultural appropriation is harmless and all in good fun.  Cultural appropriation is not, and never will be, fun, nor will it ever be harmless.  It is a means through which those in power trivialize and exert dominance over other cultures, disregarding the trappings that are too foreign, bizarre, and contemptible to them, failing to understand or even care about their significance and historical context, and demonstrating that they have the right to claim whatever they desire as their own, all in the name of "fashion" or "playfulness."
Saturday, August 18, 2012
RE: Esquire's hideous "Contempt of Women" essay
Esquire – that beacon of insight responsible for running an article about how women just really aren't that good at sex, among other biting pieces of cultural commentary - has recently(ish) published an essay entitled "The Contempt of Women" by Stephen Marche, which tackles "gender relations" in a nauseatingly (and, sadly, predictably) misogynistic and ignorant fashion.  The essay's subtitle reads "The rise of men. And the whining of girls."  You know, since men have been oppressed in our female-centric society since the beginning of recorded history.  It's about time the men strike back against those horrible feminists (or, as the downtrodden men like to call them, those "whiny girls") who have kept them from uncovering their true masculine potential all these years!
In the first sentence, Marche poetically bemoans the "rapidly revolving kaleidoscope of misunderstanding and disgust and hunger that constitutes gender relations" (don't really get what "hunger" is doing in there with the other abstract concepts – maybe he meant to throw a "make me a sandwich" joke in and forgot?).  The essay meanders offensively and illogically through a sea of unfounded statements such as "Fifty Shades of Grey is a book devoted to the following thought: Jeez, can you believe how gross that guy is?" (yes, that is exactly what E.L. James meant for her readers to take away from her erotic novel) and "male comedians go to [self-deprecating] material for the same reason they do anything: for the approval of women" (he cites Daniel Tosh as an example of this "safe" anti-masculinist, women-pleasing humor.  Because nothing makes a woman chuckle like being publically humiliated by the suggestion that five men gang rape her.) 
It seems that the crux of its argument, though, is that the "kaleidoscope of misunderstanding" is a creation of the "whiny girls" who gaze upon their male counterparts with nothing short of disgust.  In claiming that female contempt is the root of troubled gender relations, Marche completely overlooks the male privilege that structures gender roles and gender stereotypes.  While Marche argues and believes that he is railing against a gender-based contempt, what he is really angry about is a cultural movement very obnoxiously refuses to glorify an idealized conception of masculinity. 
He writes that gender relations have come to be defined by "the sneer, the female gaze of contempt" and goes on to, in a dazzlingly clever and original move, prove his point by contrasting HBO's Girls with Sex and the City.  Girls – which obviously reflects a universal paradigm shift, you know, since the experience of rich white people is pretty much reflective of the way the world works for everyone everywhere – presents men poorly, as "pitiable and grotesque… they always fail."  Sex and the City is preferable to this, he argues, because although the women in that series "commoditize men, often in the most banal way… at least they liked what the men had to offer."  This statement reveals the wounded and infantile crux of Marche's argument: he's seriously pissed off because the women on TV aren't impressed with men 100% of the time any more :(  That's so seriously fucked up, guys :( 
It makes one wonder what used to define gender relations in the good ol' days before the whiny cunt parade came along and ruined everything.  It's not far-fetched at all to conclude that the answer to that is a male perspective.  What Marche claims is "female contempt" seems simply to be women defining men – both positively and negatively – in the way that men have traditionally defined women.  In The Second Sex, Simone de Beauvoir discusses the construction of the myth of woman:
[T]he myth of woman sublimat[es] an immutable aspect of the human condition – namely, the 'division' of humanity into two classes of individiuals… It projects into the realm of Platonic ideas a reality that is directly experienced or is conceptualized on the basis of experience…
However, this conceptualized reality is not equal because it's not reciprocal: under patriarchy, men are the ones with the authority to define both femininity and masculinity.  Thus, traditionally, women have taken on the role of passive objects incapable of autodefinition:
If the definition provided [of femininity] is contradicted by the behavior of flesh-and-blood women, it is the latter who are wrong: we are told not that Femininity is a false entity, but that the women concerned are not feminine.
So men are allowed to say whatever they want about women, since that's the way the world works, but the second women express a disliking for — or, even more horrific — a marked disinterest in the men around them, it's nothing less than an affront.  When I looked at Stephen Marche's twitter, I saw he had re-tweeted a statement that reifies this sentiment exactly: a bearded man had tweeted, " 'Michael Phelps has a girlfriend? He's a total butterface!' - 2 female colleagues just now. @StephenMarche was right".  Butterface, a slang term invented by men to be applied to women, has been in circulation for over a decade, probably, but it doesn't count as overtly or especially sexist until it's applied to a man by women.
Marche claims that feminine contempt "is suddenly everywhere, subtly and invidiously panoramic, in public life and private life, in the bedroom and on television and in bookstores and on the campaign trail".  Lol r u sure you're talking about feminine contempt…?  Because it sounds a lot like you're describing male privilege…??  But definitely this new all-powerful female scorn is policing men's actions - it explains why male legislators all over the country have been to reluctant to pass laws that deprive women of the right to choose what happens to their own bodies, laws that compare them to livestock, and laws that would let them to die for the sake of preserving an unborn fetus!! I mean, just look at how he deconstructs Michelle Obama's terrible misandry:
Contempt for men has become so widespread and acceptable that it's a commonplace for politicians' wives.  Obama loves to describe her husband's morning breath and struggles with smoking and failure to put away his socks.  Her pull quote: 'He's a gifted man, but he's just a man.'  Got that, boys?  You can be editor of the Harvard Law review, first African-American president, director of the assassination of Osama bin Laden, loving husband and father, and innovator of 'absorption marijuana ingestion' to boot, but in the end 'just a man.'
This is the single most contemptuous thing I've heard in my life.  Can you BELIEVE that she teasingly said that her husband has bad breath in the morning and that he's messy?  That kind of cruelty is unfathomable.  What's most baffling about this paragraph is Marche's indignant reaction to Obama's "just a man" comment.   Ummm… no matter how much a man accomplishes in his life, no matter how perfectly he enacts Marche's weird, aggrandized version of masculinity, he will always be just a man. Is Stephen Marche seriously upset that a a human being's wife is denying that he's an god among men?  In Marche's view, a woman's refusal to blindly glorify and praise an accomplished man is contempt, and a refusal to accept male privilege as 'just the way the world works' is an act of gender warfare. 
In the final paragraph of his garbled stream of patriarchal delusions he points out that, despite the fact that women in Saudi Arabia earn more than half of the undergraduate and doctoral degrees, they have to be driven to their jobs since they can't drive, you know, because they live in an oppressive patriarchal society.  It's clear from the tone of this little excerpt that he finds that relieving.  So, let's talk about non-mythologized female contempt, now.  As a woman, I find it completely contemptible that someone could find a female perspective that doesn't completely venerate men threatening or aggressive, without realizing that his own comfortable worldview is made possible through the women's forced compliance with oppressively limiting gender norms.  Fortunately for Stephen Marche, my ** scornful gaze ** is nowhere near as powerful as he thinks it is.